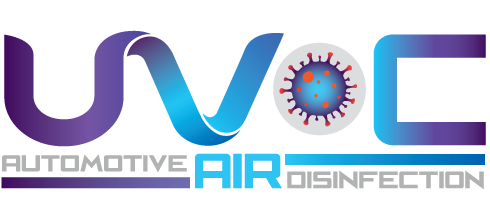 UV-C Automotive Air Disinfection is exactly as it suggests—a chemical-free way of disinfecting the air in your transport using UV-C light (short-wavelength ultraviolet).
We can install this cost-effective, UV-C technology into your existing climate system with minimal disruption. Our system reduces health risks and offers a powerful barrier against viral transmission, ensuring peace-of-mind for your passengers. Reduced capacity is a significant challenge for any transport provider and it can have a knock-on effect for other businesses. Investing in UV-C Automotive Air Disinfection facilitates longer journeys, larger capacity and lessens the need for continuous surface cleaning.
Scientifically-proven UV-C Technology
Forms of Coronavirus, such as MERS and SARS, have demonstrated a susceptibility to UV-C and it is successfully used in medical environments for sterilisation. Thymine contained in the the cell nucleus of microorganisms absorbs UV-C at a specific wavelength (200nm-280nm). This disrupts their DNA, leaving them unable to perform vital cellular functions to such an extent that they are no longer capable of multiplying or surviving.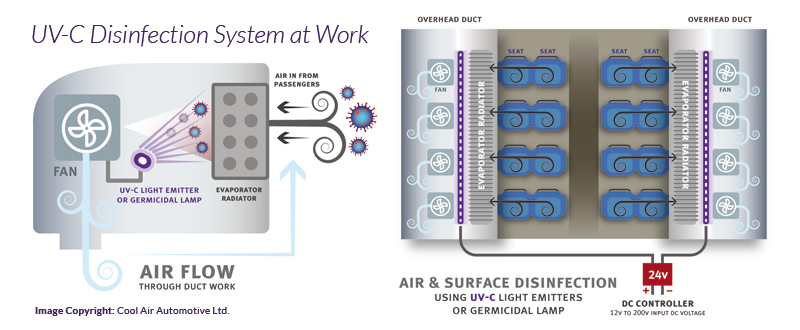 Custom-built Systems with Straight-forward Installation
We offer systems with UV-C LED Emitters or UV-C Germicidal Lamps. Our systems can be manufactured to suit a range of DC voltages relevant to the climate systems used in your coach/bus, rail or tram. We can custom design our products to suit your needs and build the lines of defense by combining UV-C and two types of generators—Ion Generators and Ozone Generators.
To learn more about how UV-C technology can work in your climate system or contact us at info@coolairautomotive.ie
Cool Air is an automotive air conditioning business based in Co. Longford.
We service, maintain and install air conditioning in all types of vehicles. This specialist business is geared towards the following sectors: